This post was written using a transcript from Tony's November 2022 podcast. It's been edited for clarity.
INTEREST RATES CONTINUE TO CLIMB
PAUL:
Let's talk about the Sunshine Coast real estate market for November 2022. On October 26, the Bank of Canada increased its rate by 0.50%. How close to the breaking point are we with interest rates on the Sunshine Coast?
TONY:
It's getting there. We've definitely noticed a slowdown. I've noticed a lot of buyers sitting on their hands. There are motivated buyers that have been pre-approved at the lower rates, so they're out there trying to spend before that rate hold expires. For other buyers, the increasing interest rates have already priced them out of the market. Sellers haven't necessarily adjusted their pricing and expectations to meet the new reality of current buyers. As you go up in price brackets, there are fewer and fewer qualified buyers shopping. Another interest rate hike will exacerbate that. The thing that's propping up housing prices on the Sunshine Coast is a lack of inventory.
TONY:
How close are we to breaking point? From what I've heard, there could be another interest rate hike before the end of the year. I would say that past mid-November and the end of November at the latest, we're going to be very, very quiet as far as transactions go. The Sunshine Coast is already way down year over year, and even seasonally this is abnormally slow. But house prices are holding. If house prices continue to hold because of lack of inventory, and interest rates keeps going up, the gap between what buyers are approved for and what they want to buy is going to get greater. I think that in January, we'll start to see house prices dropping. Everything I've seen is that we're expecting a 15% drop in values between now and the middle of 2023.
TONY:
At that point, the disparity between what people can buy and what the prices are should have balanced out a little bit and we're going to be very much in a buyer's market. But at least the buyers will be able to afford what's on offer.
TONY:
I read
an article in Russ Qureshi's newsletter the other day
. He summed up the current situation really well. He explained that buyers should try not to worry about interest rates and don't worry about how much the property was purchased for a year ago. If a home works for you, just get into the market and go from there. And I think that's a really nice and clean and simple way of explaining it to people because everyone does tend to get wrapped up in real estate. Buying a home is is one of the biggest investments that people make in their life, but real estate is one of the least respected professions.
TONY:
People watch a reality show about real estate or flipping homes and they think they need to understand all these caveats and everything else that's going on in the market. It's interesting to know and it's always good to be very well informed, but ultimately if you're looking to get out of the city and buy a home where you're going to raise a family, the Sunshine Coast is a great option. There are so many more things to consider than just a potential lift in property value that you need to factor in when you're moving here. Think about lifestyle and what your life will look like once you're here. Less of stress, less of a commute, those kinds of things. I think there's more to buying a home than worrying about rates and whether or not someone else made money on the property.
Shortage of Construction Workers



PAUL:
A recent article in Business in Vancouver talked about the current labour shortage for builders and construction workers
and that it's going to get worse in the years to come. What impact will a labour shortage have on new construction here on the Sunshine Coast?
TONY:
The cost of new construction is going to go up and that's going to push up all values in all real estate. If you have a house and you need new siding put on and that job costs $20,000 two-and-a-half years ago and now that same job is $80,000, that's going to be reflected in resale home prices. But it'll be especially noticeable in new construction prices.
TONY:
Buyers seem to be okay accepting that with inflation, the price of new home construction's gone up. However long ago, the rate was $350 a square foot, then $450, and now $550 a square foot, buyers seem to be willing to accept that the price of new construction has increased. But it's harder to accept that same increase in resales of existing homes. But at some point, the replacement cost of old homes starts to impact current prices.
TONY:
Say you have a 3,500 square foot home that's 30 years old. It's been well maintained and it's listed for $1.4 million, but to replace it and buy the land is $1.9 million. Eventually, that disparity will create upward pressure on the current value of that home. And I don't think that's translated to current prices yet. Looking at it through that kind of lens, there are some pretty good deals right now on new construction homes and spec homes that developers have built and are now selling.
TONY:
I have a listing on Hanbury Road in Roberts Creek. To buy the land and to build the home today would cost you more than the developer's selling it for, with GST included. Not specific to anyone that I'm working with, but as a generalization, developers are looking to get out of the market because they're exposed to fluctuations and interest rates just like everyone else. So I think that a labour shortage is going to be something that affects and increases costs.
TONY:
I had some work done the other day and I was talking to an electrician, and I was told there's a massive shortage of electricians because there's a huge demand for electric car chargers. There just aren't enough electricians to do that work, let alone any new construction. There's a lot of weird changes that are happening with new technology that I never could have predicted. Maybe a futurist could have sat down and thought about it, but for me, I never would have made the jump from electricians installing car chargers to the cost of new home construction going up because of a labour shortage.
---
CALL TONY TODAY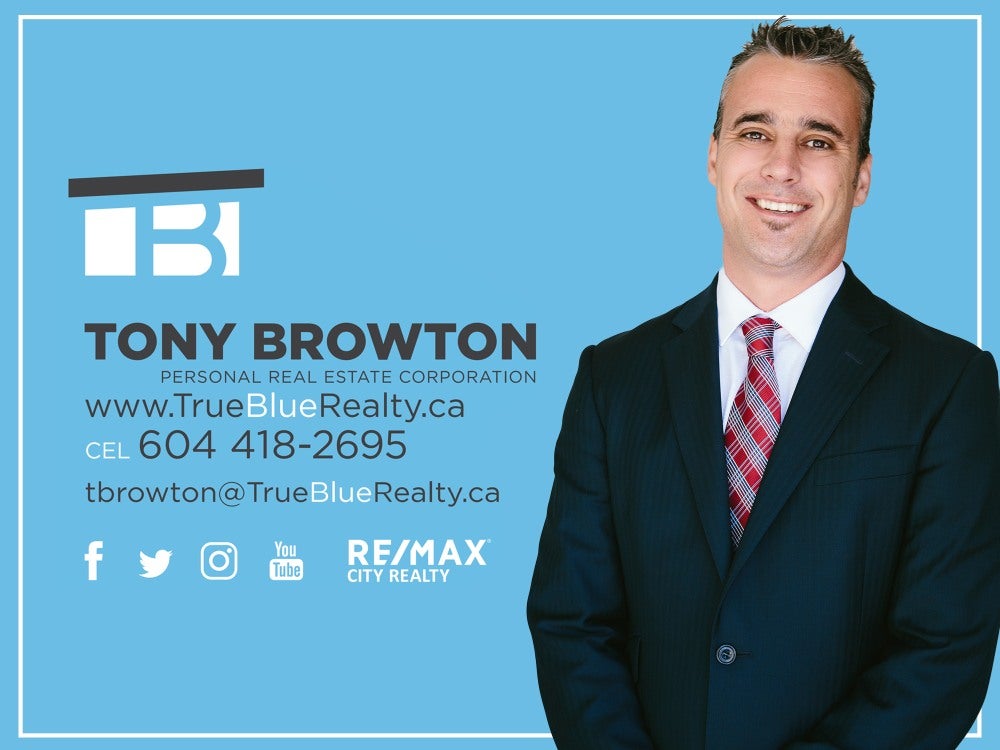 If you're not already working with an agent, call me when you're ready to buy or sell and I'll guide you through the busy and competitive real estate market on BC's BEAUTIFUL Sunshine Coast.
Tony Browton - 
TrueBlueRealty.ca
Personal Real Estate Corporation
RE/MAX City Realty (Gibsons)
Mobile: 604-418-2695
Email: 
Click here to email Tony
⚠️ 
DISCLAIMER:
 This blogpost is not intended to cause or induce breach of any existing agency agreement.